Blake Lively gave an interview for the british magazine Psychologies were she talked about being a shy teenager and her upcoming movie The Rhythm Section. The interview was transcribed by the team of Blake Lively Source, so please, give the due credits.
Actress Blake Lively talks about being a shy teenager, how she built her confidence through acting, and her new film,The Rhythm Section, in which she plays an ex-heroin addict.

On the surface, Blake Lively has it all. much more outgoing and enthusiastic. Happily married t0 Canadian actor Ryan Reynolds and mother of James, four, and Inez, two, she enjoys the kind of life that comes with being a talented and successful actress. But, growing up in California in a family of entertainers, Lively was a tall, gangly and awkward teenager whose insecurities were a constant source of anguish for her. 'I was pretty shy growing up,' Lively admits. 'I had problems with some of the other girls in high school and, because I was tall, I felt insecure about standing out in a crowd when I really just wanted to disappear and be alone. I was kind of withdrawn and I spent a lot of time by myself, lost in my own thoughts.' But it was acting that built her confidence. 'It wasn't until I began taking acting classes that I was able to overcome my shyness in social situations. When I was 15 or 16, I started becoming much more outgoing and enthusiastic with people; I had spent so much time being this
strange introvert but, deep down, I was longing to have fun and be expressive.'

It was only a few years later that Lively would burst onto the scene with her role as Upper East Side princess Serena van der Woodsen in the TV series Gossip Girl. Today, she's enjoying life with Reynolds of Deadpool fame. While he has reinvigorated his career with the billion- dollar 'anti-superhero' franchise, she has maintained a steady workload while raising their children. Some of her recent films include last summer's A Simple Favor, a mystery thriller co-starring Anna Kendrick; The Shallows, in which she plays a desperate surfer trying to survive a shark attack; and drama The Age Of Adaline.

Lively's new film, however, the action thriller The Rhythm Section, marks a distinctive change of pace for the actress, who plays a former heroin addict, Stephanie Patrick, who transforms her life pursuing the people who orchestrated the plane crash that killed her family. Shot mostly in Dublin and Madrid, the highly anticipated film, directed by Reed Morano (The Handmaid's Tale), co-stars Jude Law. 'I did ride-alongs with police on drug busts and spent a lot of time walking through alleyways talking to addicts, some of whom were just teenagers,' explains Lively about her preparation for the role. 'It was the hardest thing I've ever had to do.'

For the past four years, Lively and Reynolds have chosen to live far away from Hollywood in the quiet town of Bedford in upstate New York with their daughters [James is named after Reynolds' late father]. They also hope to expand their family in the coming years: 'I'm one of five kids; Ryan's one of four — so we're officially breeders!' In the meantime, the couple have opted to pursue their acting careers with as much passion as ever, staggering their work schedules and accompanying each other on set with the children in tow. 'We decided that we wouldn't be separated as a family, so we just make a home for our kids in whichever place we happen to be filming' she says. Lively recently revealed that long before they became romantically involved, she sensed there was something special about her relationship with Reynolds. 'I knew he'd be my best friend for my whole life. That was the biggest thing for me. I'd never known anything like the friendship I had with him. I liked him as much as I came to love him.'

The Interview

You seem to have a pretty positive personality. Is that your nature?

I get that from my mother. She would always tell me and my sister: 'Where there's a will, there's a way.' That serves as my personal mantra when things get complicated in life and you want to feel sorry for yourself. I try not to let myself go there because it doesn't do you any good, and that's the time when you need to energise yourself even more, rather than mope around. I'm usually in pretty good spirits and I like to think I bring a positive mood to people around me.

Even though you have confessed to being shy and awkward as a young person, did you have an upbeat perspective on things, even back then?

Even as a little girl, I would think, 'It's a good day to be happy!' That kind of feeling and thinking has stayed with me my entire life and I hope I never lose it. If you have self-confidence and a strong sense of
determination, then good things are going to happen to you. You can make your own luck, even when life
throws roadblocks in your way.

Do you find yourself becoming more confident with age, success, and the life you've made as a wife and mother?

Confidence is a strange thing sometimes. I was lucky that I grew up in a secure home environment with a family that was very supportive and loving. Then, as a young adult when you're living on your own and making your way in life, you can lose that confidence, especially in this business where the media often tries to bring you down and some people take pleasure in criticising your work. So, that makes you question yourself; a lot of self-doubt started to creep into my head, even though I was on a successful TV
series. I went through so much soul-searching and it took me several years to regain my confidence. But I also think so much of that just has to do with struggling to figure out who you are, especially in your 20s.

Have you overcome your tendency towards shyness in social occasions?

I am much less inhibited and more open with people than I was when I was younger. Acting did that for me… But I'm still slow to make friends. I'm not the type 0f person who meets someone and, after a few minutes, I want to exchange phone numbers. It takes me some time to feel comfortable with someone.

How do you feel about performing in films with dark storylines — the violent Savages [directed by Oliver Stone] and your troubled character in The Rhythm Section?
I get to project myself into all these dark spaces and indulge in a lot of heavy psychological states. That's what I love about acting. It helps me to understand myself better and not just stay in my comfortable little world. I'm a pretty happy person but it's much more interesting to play tormented women who have to struggle in life. I feel that every time I finish a film I've become a stronger person and that pushing yourself to the maximum leaves you feeling much more confident and less fearful.

Apart from work, you've continued to indulge in your passion for cooking over the years… [Lively worked as a pastry chef at the celebrated Per Se restaurant in New York on her 23rd birthday and Reynolds often makes reference to his wife's prowess in the kitchen.]

I like to tell people that I'm really a cook by nature and an actress by accident! I feel that I have a natural gift for cooking. I can get incredibly passionate about coming up with interesting dishes and learning how to prepare food and create different flavors and tastes. I love to cook for my friends and I can spend hours in my kitchen trying out various ideas and learning to concoct meals with attention to detail and taste.

Are you enjoying married life?

It's been wonderful. Ryan and I like doing everything together. He loves helping me choose things for the house, he's interested in all types of cuisine, and he says he loves everything I cook for him — he's such a good liar! We help each other when we're preparing our characters for a new nlm, too. It's great to be partners like that with someone you love.
Check the pictures in our gallery: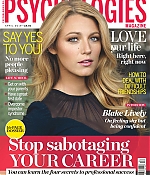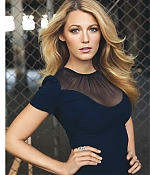 Gallery Links:

Magazine Scans > Scans from 2019 > Psychologies UK